Over time, strategists have recognized the need for a well-defined sales strategy in a fast-paced and competitive environment.
A sale is no longer just about selling products over a defined period; instead, sales takes a broader and more strategic approach. It requires the active participation of both the buyer and the seller to be successful in the long run.
With changing consumer behavior, buying patterns, and the advent of automated technologies like CRM, the sales focus has shifted more to the buyer side. Focusing on buyers' needs can seem demanding, but it's just as crucial to a company's success now as it was before.
All of a company's resources, including the sales team, sales process, and sales cycle, cannot be aligned without an effective sales strategy. Building a sales strategy helps a company build a niche with its team and customers.
What is a sales strategy?
A sales strategy is a structured, precise sales plan formulated to sell products or services, generate profit, and meet customer needs. It positions a brand in the market, increases brand exposure, helps create a brand persona, and strengthens brand messaging.
To begin planning a sales strategy, ask the following questions:
What do we sell?
Who do we sell to?
Where do we sell?
What problems do we solve?
Once you have a clear view of your business goals, target market, ideal customers, and other demographics, it's relatively easy to create a sales strategy that works for your company.
Additionally, your sales strategy should clearly define your sales funnel, sales goals, buying process, target audience, KPIs, competitors, problems, and value proposition. 
Drafting an actionable sales strategy forms a concrete basis for a strong competitive edge.
What are the types of sales strategies?
There are different types of sales strategies, which depend on various sales factors. These factors include buyer behavior, actions, position in the sales pipeline, current market trends, and more.
However, we'll cover the two main types of sales strategies here: inbound and outbound sales strategies.
Inbound sales strategies
Inbound sales strategies involve a more individual and tailored sales approach. Also, companies that employ such techniques pay personal attention to each buyer. With inbound sales methods, buyers can advance the sales process step by step.
When managing inbound sales, sales reps empower customers instead of forcing them to buy. This builds trust and gives them a sense of power in the buying process, critical for point of sale.
Besides, informed customers tend to make better buying decisions and build long-term relationships with companies that make their buying journey hassle-free.
Inbound sales strategies are buyer-oriented strategies that mainly focus on:
Needs of potential customers
Use and value of a product/service
Product features
Buyer intent
Buyer retention
Main pain points
Goals and challenges
Outbound sales strategies
While inbound sales strategies entail bespoke communication, outbound sales strategies involve a more traditional sales approach. 
With an outbound sales approach, sales reps need to make sure they don't sound pushy and that their sales pitch is always very natural.
As we all know, there's a massive uproar over outbound sales tactics. It's also impressive to see how they affect the overall sales process. 
These sales strategies can have both positive and negative effects on the sales process. It all depends on how you use them to your advantage. Also, careful use of outbound sales strategies can produce quick results like shortening the sales cycle. 
Also, since manual data retrieval during outbound sales can be tedious, you can use buyer intent data and LinkedIn matched audiences to improve your outbound sales strategies.
What distinguishes outbound sales strategies from inbound sales strategies?
Sales tactics to convert a buyer who may not be a prospect or a customer who has shown interest in your product.
Customers often find these techniques spammy and intrusive.
It's hard to differentiate between a potential lead and a cold lead in outbound sales.
Cold calling and cold emailing are two of the most popular outbound sales techniques.
How to build a sales strategy?
Regardless of a company's sales approach, finding the right mix and pursuing a balanced strategy always works in its best interests.
75%
of top salespeople value CRMs, productivity apps, email marketing, and social selling as key factors in their success.
Source: LinkedIn, State of Sales
With that in mind, organizing and creating a framework for your sales is not an easy process. There is still a lot to be done to develop a sales plan and keep it moving. Measuring results and performance is another big task. Thus, it's best to have more than a few tips and tricks to keep your sales game going.
While defining your sales process can be quite confusing, a structured action plan can make the most complex tasks easier to manage.
To clarify what we've discussed so far, let's take a quick look at the six most important ways to develop a sales strategy and improve your sales process.
Create a sales plan and sales strategy outline
Before you start selling any product, it's crucial to understand how to go about it. Without a guided plan of action, all of your efforts are likely to be in vain. First, create a sales plan and strategy, and prioritize critical areas as follows:
Set a timeline
Divide your strategic plan into a specific period, set a detailed schedule for each sales stage, and assign it to all associated departments. Creating a timeline will give you measurable results that you can compare to previous years or quarters so you can easily track sales progress.
Draw a clear outline
Mark the critical areas you want to cover on a chart. This chart can contain your mission statement, background, goals, plan of action, budget, and so on. A clear outline makes the sales flow easier by knowing your focus areas and essential elements.
Write a mission and vision statement
Overall, what do you want to achieve? What's your extended vision? Review your core values and set them up. Your mission and vision statement should be as close to your business goals as possible.
Above all, your mission and vision statement should summarize your goals and be easy to communicate. The simpler you understand your vision and mission, the easier it's to share with your customers.
Give a little background
Understanding why you exist is crucial for both your customers and your team. For the same, underline the context and nature of your business. Also, add a summary of your business, including your company's story or history, to give your readers a little background about you.
Set your sales goals
Review your sales strategies to get a clear idea of your sales goals. These goals can be either short term, long term, or both. Knowing and setting your sales goals is the best way to get an idea of the resources you'd require to achieve them.
Create a buyer persona
Visualize your ideal customer. Imagine a customer avatar for each of your products in your target market.
Creating a customer profile gives you a visual view of who your customers are, where they exist, and how they spend their time. It also gives you an overview of their needs and preferences – the reason why it's useful to know your customers before you even start growing your customers.
Build a team structure
Set up your sales leadership and the rest of your sales team first, then align your sales department with other related departments. Also, consider new hires and their role in growing your business.
Name your leaders and their positions. Show how each team member reports to these leaders and each other. Say you have an existing org chart; you can use it by making some changes here and there.
Add software, resources, and other useful tools
Describe the tools your sales team will use to achieve sales goals. This list can include CRM software, sales metrics, documentation, and others. Categorize each resource, its uses, and benefits. Do thorough initial research before adding these tools to your sales plan.
Include your marketing and prospecting strategy
How would you position your product or service in the market? What's your pricing strategy? Do you need a SWOT analysis? What can future trends and challenges be? Also, add a detailed competitor analysis and criteria outreach strategy.
Outline your budget
Calculate and record all expenses such as setup costs, salaries, commission, spend on tools and software, training costs, travel costs, maintenance, and so on.
Forecast all expenses, and keep room for inconsistencies. Creating a budget overview is one of the leading activities in creating a sales plan. This budget overview helps you to keep track of the expected and actual expenses.
Finally, create a plan of action 
Create a plan of action to implement all of your strategies best. This plan should describe all measures to achieve your goals for a successful sales strategy.
A good plan of action can save you even in unpredictable times, and include the following elements:
Time frame
Roles and responsibilities
Goals and objectives
Response and mitigation strategies
Forecast vs. expectations
Indicators of success and progress
An action plan should address and fix any major issues and be easy to understand. It should track progress and focus on improving achievements.
What can save you the hassle of creating a sales plan from scratch is a handy sales plan template that you can download here.
Invest in sales training and onboarding
Depending on your company's size, how you build, train, and have your sales team onboarded is crucial. First, you need to develop a working training module and the onboarding process. Next, you need to align your sales with other departments like marketing, product development, and content.
Some things to consider when building your sales team:
Once you've hired top talent, prepare to introduce them to your goals and strategies.
Start training your team with proper sales training and onboarding module. If you don't have a module ready, you can also use third-party modules and customize them according to your business needs.
Create your sales call script. You can also dive into a readily available

sales calls script for any situation.

Identify key communication channels that you would use for all sales processes.
Establish qualifying standards for sales communication. Make sure your team fully understands the established norms and how they affect your overall sales goals.
Deliver frequent and timely sessions. Have a qualified sales professional do the training and onboarding.
Use

relevant sales training and onboarding software

to help new hires learn your business's ins and outs and improve their sales skills.
Trust your team and support them in every situation. Train your team to handle challenges effectively. Empower and motivate your sales reps, and give them time to delve into the process before setting out your expectations.
Fact: McKinsey found that leading companies "were twice as likely to customize training based on sales roles. Almost half of these high-performing companies invest heavily in training. Compare this to only 25% of underachievers."
So invest wisely in sales training and onboarding. They're an integral part of your strategy that will lead your sales process.
Divide your sales process into stages
Now that you've created your sales strategy outline, it's time to start executing your sales plans. Think of a sales process as a startup for an idea or problem with potentially significant business opportunities and implications.
Now, let's divide it into the following three stages: awareness, consideration, and decision-making.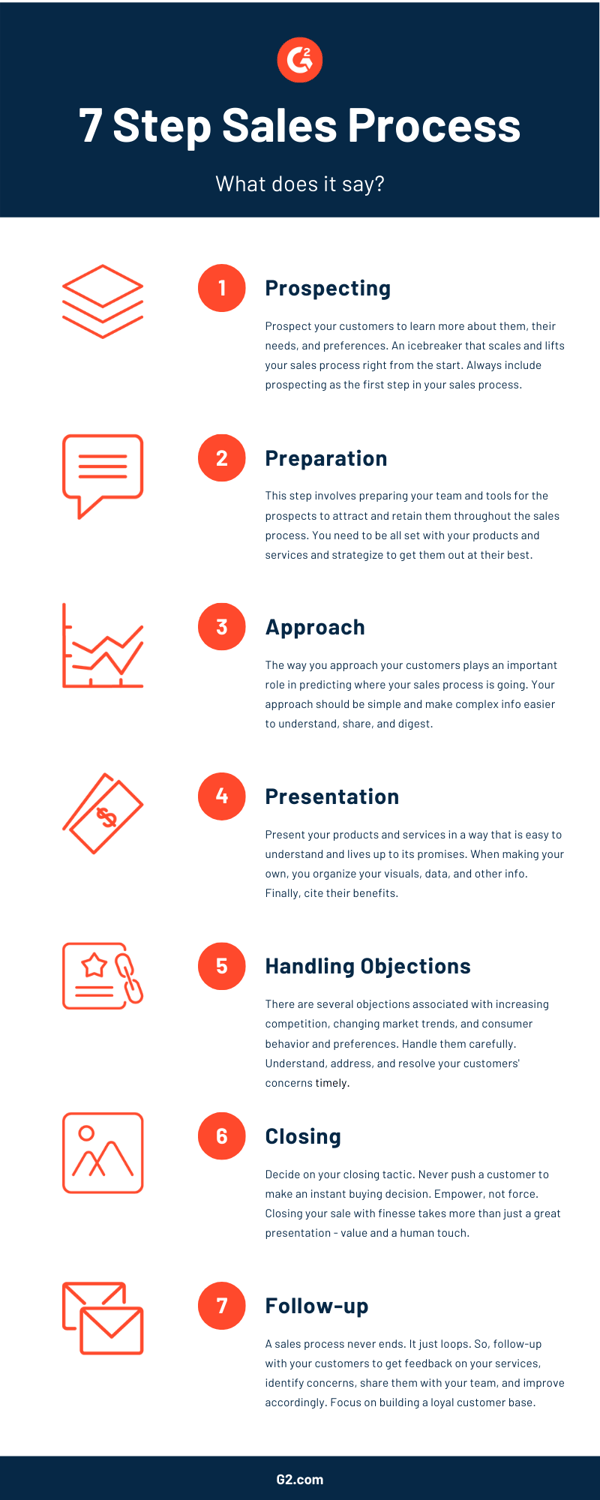 Awareness stage
In the awareness stage, new customers become aware of your products and services.
This stage is seen as one of the most valuable steps in the sales process as you position yourself in the market and increase your reach.
During the awareness stage, consider the following and place yourself in the right place at the right time:
Prospect your target market

and ideal customers to pack your pipeline full of value

.
Determine if they need your product or service. Is it useful for your customers, and does it meet quality standards? Evaluate their buying intent and budget.
Practice a multi-threaded sales approach, and connect with multiple decision-makers on the buyer side.
When you make initial contact with the market, prepare for your sales presentation, and create a tailor-made solution for your customers' needs.
Decide your approach when making the first contact. Would you start with a gift, a trial of your product or service, or get feedback from your customers?
Consideration stage
After you understand what your customer wants, and when your sales pitch piqued their curiosity or understood their intent, your customer enters the consideration phase of the sales process.
At this point, you already have interested leads. It's fascinating to see how things play out from here as you convert what you have.
Better yet, think about the following to allow your customers to consider you over your competitors:
Present your products and services and educate your customers on their benefits.
Show how and why your product stands out from others. Also, explain how it'll meet your buyer's needs.
Be patient with your customers. Listen to them and take the next steps accordingly.
Address concerns, resolve problems and handle complaints carefully.
Decision-making stage
When all's said and done, it's time to face a sales process's trickiest stage: the decision-making stage. At this stage, salespeople wait patiently for a decision to be made. Beyond this stage, all of their efforts and planning come into action.
Be sure to consider the following in the decision-making stage:
Don't push your customers into making an immediate purchase decision. Take your time after introducing your product.
Perform timely follow-ups. In the meantime, keep your customers informed about your new products or other services they may be considering.
Stay connected with your customers through email, phone calls, and social media. Make sure you don't sound too intrusive with your outreach.
Once a customer has agreed to move forward, decide on your tactic to close a sale. Suppose your customer pays in advance or installments. Does it matter if you add some value to close the deal or if you create a sense of urgency?

Sales performance management based on your sales strategy
Sales strategy? Check! Sales team training and onboarding? Check! First sale? Check!
At any point in your sales pipeline, you need to stop and see what goes wrong and works well for your sales process. Measuring your sales performance and analyzing your sales metrics are the most crucial parts of your sales strategy.
To measure and track sales performance, use performance metrics. These metrics help you know if your sales goals and results are correctly aligned. You can use the following performance metrics to create a sales process that aligns with your sales strategy.
Sales dashboard
A sales dashboard visually represents your sales data in real-time. It helps visualize your KPIs so that sales reps and managers can review progress toward goals and objectives.
Sales dashboards are useful when evaluating performance and making business decisions. Managers look at dashboards to stay on top of sales team performance as they create sales strategies, create compensation plans, award bonuses, and identify areas that need improvement.
Sales KPIs
The sales KPI, or key performance indicator, is a metric that sales reps and sales managers use to measure particular sales activities. These key figures inform sales leadership about the overall performance of the sales team.
Total revenue: Total revenue combines the income from each business or sales activity of the company.
Gross profit margin: The amount of money (revenue) that remains from sales after accounting for the cost of sold goods, often expressed as a percentage of sales.
Sales growth: Sales growth compares the change in sales over two different periods. This revenue KPI is a percentage, and goals can be set personally or across the team.
Lead to opportunity ratio: Lead to Opportunity Ratio shows how many of your leads convert into opportunities by comparing the number of customers in those two spots.
Sales closing ratio: The sales closing ratio goes one step further by comparing the number of offers or proposals sent to the number of deals closed.
Annual contract value (ACV)
The annual contract value (ACV) refers to the average annualized turnover per customer contract. ACV is most commonly used by SaaS companies that sell solutions with an annual or multi-year subscription.
Measuring ACV alone does not add that much value to businesses. If you compare ACV and CAC, you can see how many contracts need to be signed to generate enough revenue and cover the cost of acquiring that customer.
Align your sales and marketing strategies with each other
Sales and marketing go hand in hand. Neither can thrive without the other.
87% of sales and marketing leaders say collaboration between sales and marketing enables critical business growth.
Indeed, sales and marketing are like two sides of the same coin. Both processes are directly proportional, and without exception, influence each other.
Before customers decide to contact you, they do thorough research on your products and services. They only get your sales team when they determine that your product meets their needs.
Your marketing must first be right in the above case, then your sales, and vice versa. That's why there should always be a sync between your sales and marketing teams. Proper alignment ensures that customers get the right information. Integrating sales and marketing adds to a company's overall voice and helps make the sales strategy more robust.
Now that you understand the benefits of aligning sales and marketing, you can use these steps to balance both strategies.
Integrate the buyer journey and buyer persona
Focus on creating an integrated experience for your customers. Merge the buyer journey and buyer persona from sales and marketing. Once you've merged both, you can also align your sales and marketing with the right technology like CRM, marketing, sales automation software, and more.
Let marketing take the lead 
As explained in the example above, marketers first reach out to prospects, identify their problems, and offer a solution. It's when customers are satisfied with the relevant marketing; they contact your sales team.
At this point of contact, your sales team step in to convert the informed leads. This synchronized method increases the conversion rate and ensures that both departments play their respective roles at the right time.
Use a consistent brand language
Your brand message should be a mix of your sales and marketing messages. It's also beneficial that your sales messages and marketing messages contain similar information. Inconsistent messaging can negatively affect your brand image.
Record customer feedback and focus on retention
Your existing customers are just as important as new customers. Therefore, your sales strategy should be to retain your current customers while attracting new leads.
The best way to do this is to use customer feedback for sales and marketing activities. Marketing may be the first point of contact with customers, but a sales pitch captures and addresses your customers' concerns.
When you've gathered feedback from both departments, compile it in the voice of customer data (VOC). Use this data to improve your messaging and approach, be it in sales or marketing.
Create an excellent sales presentation
Sales reps often overlook this extraordinary way of boosting sales. Creating quality sales presentations should be on their priority list. An effectively designed introduction can work wonders for your business. This can be backed up with successful examples, like this one from Apple:
"Deliver great presentations – both internally and to customers on sales calls – and you will be able to communicate your desired message more effectively."

Steve Jobs
Co-founder, Apple Inc.
The way you present yourself directly determines whether a customer will buy from you or one of your competitors.
When creating a presentation, you should balance the way you present and deliver. It's okay to keep it as simple as possible. Ideally, never brag. Instead, have the charisma to put your unique selling points in the spotlight.
Here are some points to consider when making a sales presentation:
It should clearly explain what you are offering.
Keep it relevant and straightforward.
Never miss the point.
Make a promise and define how you'll deliver it.
Use custom designs and graphics.
Make it appealing and attractive, but not too tacky.
Trust your work and explain how it'll help your customers.
Keep yourself and your customers engaged.
Examples of successful sales strategies 
It's easier to visualize sales strategies when you see top companies successful with steps they've implemented in the past. Here, we're going to take a closer look at two enterprise companies, Salesforce and HubSpot, to see how their sales strategies found massive success among customers.
Salesforce
Salesforce was a startup that beat all odds and outperformed giants like Microsoft and Oracle with its incredibly talented sales team and innovative sales strategy.
What did Salesforce do right?
Explained what they deliver in simple language: "So take the numbers and make them into meaningful metrics," says Greg Gsell, a Salesforce senior marketing manager. Salesforce likes to explain its products and services in simple, easy-to-understand language.
Picked guidance over judgment: Salesforce guides customers by educating them about their software's benefits, rather than stepping on their competitors' reputation.
Made use of soft-skills: They empathized and probed customers to learn more about them. Also, they presented an existing customer success story to highlight how they offered a solution.
Believed in team spirit: Salesforce's team members strove to achieve the best for themselves, but not at each other's expense. They put teamwork above everything in the organization.
"We're not the hero in our customers' stories," says Kardyhm Kelly, a Salesforce senior director with "customer stories" in her title. "It's how the customer succeeded, not how we saved them."
HubSpot
HubSpot is an all-in-one growth platform. Since 2006, it's their mission to make the world a little more understandable. Today, over 64,500 customers in more than 100 countries use HubSpot's software, services, and support systems to attract, retain, and delight customers.
What's HubSpot doing right?
Creating free and useful content:

HubSpot generates high quality leads at a low cost by attracting visitors to their website. They use a stream of free and valuable content to do this. If you take a close look at sales training, activities, and ideas, you can get an idea of ​​what kind of content they post and how valuable it's to their audience.
Employing an inbound sales approach: HubSpot believes more in creating and maintaining an inbound sales approach. They prefer organic leads over outbound or paid traffic.
Conducting webinars and other educational streams: HubSpot is increasing its conversion rate by hosting webinars for educational and demonstration purposes on relevant software, SaaS growth, etc. They view webinars as robust sales and marketing tools.
Think of content from their customers' point of view: HubSpot focuses on creating engaging content that users love to use and want to share on their network.
Website Grader: Their free tool has attracted millions of visitors to their site.

Content quality analysis: In addition to creating engaging content, HubSpot also measures the quality of leads to determine which type of content generates more traffic.
Sales process takeaways
We discussed six key steps you can take to strategize your sales, capture new leads, and build a successful sales process. Omit anything that you don't find essential. Instead, focus on improving your sales process to provide quality services to your customers.
Satisfied customers create added value for your services and form a trustworthy, loyal network. This network continues to branch out, improve your reach, and eventually establish your company as a critical player in the market.
An important question that sticks out everywhere is what sets you apart. How are your sales strategy, process, and team different from various other options available? 
Before doing anything, think about your customer first. And don't forget to follow these best practices to emerge as a winner as you prepare for success.
Know your customer
A good salesperson takes the extra mile to understand their customers. Efficient salespeople are empathetic, patient, empowering, and resilient. They know each customer, their likes and dislikes. Also, identify problems, address concerns, and resolve them promptly. Strategists should take all of this into account when building, training, and onboarding a sales team. You need people who are open-minded and accepting.
Deliver what you promise
Most of the time, companies sell to make a profit. While earning a good income is vital to any business's success, your profits won't last long if you do so at the expense of a customer's trust.
To prevent objections, be proactive about your products and services, and deliver what you promise. Engage your buyers and understand what they want from you.
As a leader, examine your team and analyze whether they are reaching the bar. You may also want to receive customer feedback and fix problems that arise. You should always follow a standard operating procedure that'll help you stay transparent with your customers and your team.
Offer excellent customer service
Make your customers feel included and involved at every stage of the buyer journey. Before you act or react, listen to them. Responsive customer service can lead to breakthroughs in your sales process. Good customer service includes how you speak to your customers and how polite you are in your expressions. Use it to prove your knowledge and sales skills.
Never stop trying
Some customers are more challenging to convert than others. More often than not, customers take the time to make a purchase decision.
And as we know, they are unlikely to buy right away. Not getting a timely response from your leads can discourage you. There's always a fear of losing all the effort that you put into the entire sales process.
When you lose a sale, always introspect. Understand what went wrong. When you find the issue, sort it out, and fix it. Innovate your approach, be creative, persistent, and patient.
Selling can be like breaking a coconut. Sometimes it won't break, even with using all your might. Sometimes it's not even that strenuous. But one crack, and you're in. Once the surface breaks, you'll find all of the sweetness inside.
Don't overdo yourself, but never stop trying. Indeed, this is the only way to cope with a stressful sales life and hectic processes. As you try to learn new things, it automatically becomes more interesting to find new avenues and sales approaches.
And as we know, redundancy kills creativity. When you stop innovating and being creative, customers stop buying from you because someone else is fulfilling their expectations. So keep trying. You'll get there.
Building an effective sales strategy is only the beginning of your sales journey. Check out this all-inclusive sales process to help you close deals and spike profits.