Sales wants more leads, and it's your job to deliver them. Now what?
There is a lot of noise and competition for buyers' attention. Attracting the attention of new leads is hard – that's why it's important to meet your prospects where they're at. Consumers expect businesses to provide them with a seamless purchasing experience. No matter which channel your company is using to communicate with prospects, the message needs to be consistent.
B2B companies are turning to digital marketing strategies to create this multi-channel purchasing experience. This is in part because new technologies make it easier for marketers to generate leads and personalize marketing communications.
A key function of any sales or marketing team is lead generation. Lead generation is a marketing strategy used to attract and qualify prospects and potential buyers, in order to pass them along to sales.
In order to start moving these leads down the sales funnel, you need to get their attention and their contact information first. That's where lead capture comes in.
What is lead capture?
Lead capture is the process of attracting prospects and collecting their contact information. Marketing teams use lead generation techniques to attract, qualify, and pass high-value leads to their sales team with the goal of converting prospects into paying customers.
Lead capture looks different depending on what channel you're using to connect with your prospects. This guide will outline the best lead capture techniques with examples from some of our favorite companies.
In order to help you better understand this article, we've provided a glossary of common terms seen in this piece.
Lead: a lead is a person or company that has expressed interest in purchasing products or services.
Lead generation: the process of attracting people and converting them into prospects through activities such as website optimization, social media, and email marketing.
Lead capture: lead capture is the process of attracting prospects and collecting their contact information.
Lead qualification: lead qualification is the process of determining how valuable pursuing a lead would be. The quality of a lead depends on things like customer profile, business needs, and likelihood of purchasing.
Lead scoring: lead scoring is a method used to rank leads based on their value to the business. Lead scoring helps sales reps better prioritize their time and energy on high value accounts, in order to maximize profits.
Best lead capture strategies and examples
As many marketers know, convincing cold leads to hand over their contact information is harder than it sounds. Customers are increasingly wary of giving away their personal information. Between the rising impact of data breaches and the volume of spam messages out there, consumers are more protective of their data than ever before.
It might seem impossible to clear this hurdle, but lead capture provides marketing teams a way to attract and engage qualified leads. The key to keeping a steady stream of new and qualified leads coming to your organization is creating a value proposition your prospects can't refuse.
Newsletter subscription forms
Email marketing is a popular lead generation strategy because it allows you to communicate with prospects directly in their inbox. Getting a hold of your prospects' email addresses, however, is a challenge in itself. Newsletter subscription forms are a great way to provide a value-add in exchange for a prospect's information.
This is a top-of-funnel strategy designed to familiarize prospects with your brand. If your marketing team creates content that prospects find valuable, they're more likely to give you their email address in exchange for regular content.
Because an email newsletter is a top-of-funnel touchpoint for many prospects, you'll want to keep the barrier to entry low. Don't ask for more than a prospect's name, company, and email address at this stage. Make it easy to sign up and clearly communicate what the prospect will get in return.
Here's an example of a good newsletter subscription form:
Source: Databox
One drawback of this strategy is that it's harder to create a defined audience. There's no guarantee that the people signing up for your newsletter are viable prospects.
Email newsletters have mass appeal, which means this strategy has the potential to generate a lot of low-quality leads. It's important to have a lead scoring system in place to separate viable prospects from people who are just interested in reading blog posts.
Gated content
Gated content requires a prospect to complete a form in order to gain access to a piece of marketing collateral. The goal of gated content is to generate leads. Marketers will create specialized content in the form of white papers, webinars, PDFs, or eBooks designed to attract prospects that fit their target audience.
It's a popular lead generation tool marketers can use to create defined audiences, score leads, and more.
93%
of B2B companies say content marketing generates more leads than traditional marketing strategies.
Source: Marketo
Gated content isn't used for brand awareness, generating traffic, or collecting keywords. The primary goal of gated content should be to generate new leads through form submissions. And because the content you're gating takes more time and effort to create than a regular blog post, you can ask customers for more information.
Here's an example of a gated content lead capture form: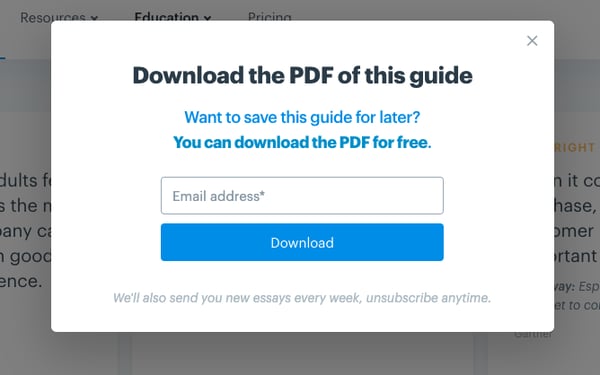 Free tools and templates
When it comes to providing a value proposition for potential customers, nothing works better than giving things away for free. Many companies create a blockade around their products, forcing leads to sign up for product demos and consultations before they can give the tool a test run.
This is a huge ask to make of your prospects.
Prospective customers don't want to hand over all of their personal information, privacy, and time to test a product that might get the job done. The smarter alternative is to give your prospects the opportunity to engage with your product at no risk to them.
Free tools and templates are an easy way to let your prospects engage with your product and decide whether it's right for them on their terms.
Here's an example of a free tool form: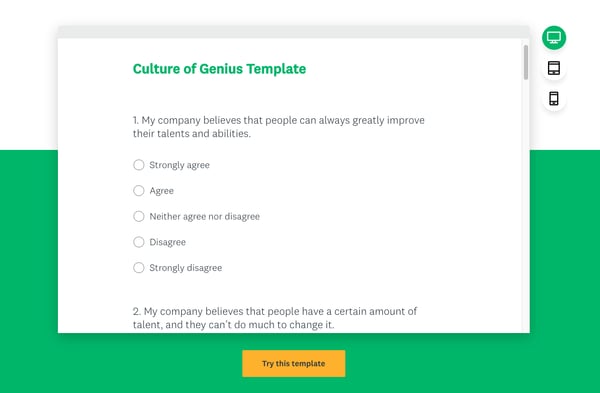 Source: SurveyMonkey
With this strategy, you always run the risk of having leads who are only interested in the free version of your product. The good news is that leads who engage with your free tool and enjoy the product are highly-qualified leads. With the right retargeting strategy and engagement strategy, these leads can be nurtured into prospective customers over time.
Free trial offers
The next evolution of the free tool strategy is offering a free trial of your product. A free tool is often just a sample of a singular feature of your overall product. A free trial offer allows prospects to do things like create an account, input their own data, and explore a variety of product features.
This strategy is also known as the "freemium" model in SaaS. Freemium is a subscription-based pricing model where some features of a product are free to use and others require a paid subscription. The idea is to give away just enough of your product to get prospects hooked, and place your most impressive product features behind a paywall.
30 days
is the most common length of time for a free trial period.
Source: Cobloom
This encourages prospects who are enjoying their free trial to convert into paying customers in exchange for a more robust version of the product for access to things like: more users, special tools, data and reporting features, product integrations, and more.
Here's an example of a free trial offer form we like: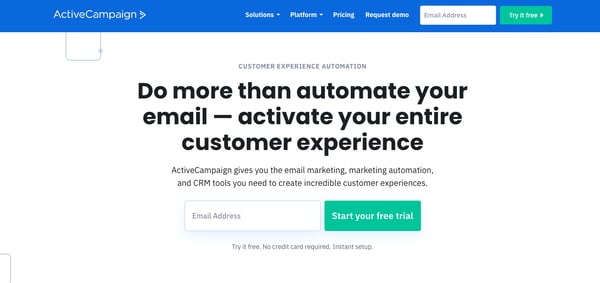 Creating clear terms of service for your free trial offer is very important. The word "free" doesn't mean the same thing across industries. Customers don't want to be surprised by things like auto-enrollment, unexpected charges, and cancellation fees they weren't told about upfront.
If you require customers to have a credit card on file to receive a free trial, it's your obligation to make the terms of the free trial and any payment involved available to prospects.
Request for quote forms on website
When prospects start asking for pricing information about your product, it's a good sign they're ready to buy. But don't start chalking those accounts up as wins just yet. Customers are usually researching multiple products at once. They are looking for things like pricing, features, customer reviews, and more.
Many companies make the mistake of hiding pricing pages or they make product details difficult to locate, hoping customers will fill out lead forms. But forcing your prospects to hunt down information about your product starts your relationship off on an uneven foot.
It forces your customer to lead with caution.
The best way to combat this is to give prospects choices on how they'd like to get in contact with your team. Some leads might be ready to make a purchase now, others might want a less committed approach while they continue making decisions.
Here's an example of a request for quote form: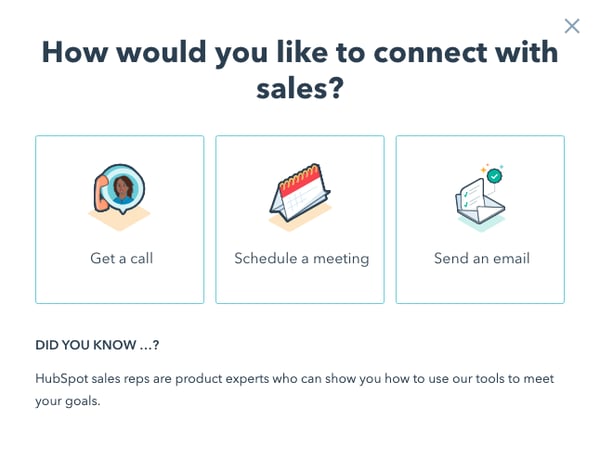 Lead capture forms that lead to contact with sales teams should have more fields than other lead forms. This helps your sales team quickly familiarize themselves with the prospect and score the lead accordingly.
It also saves your sales team wasted time at the beginning of conversations. Because they won't have to spend time collecting that information themselves, they can focus on selling instead.
How to create a lead capture form
Prospects who interact with your lead capture forms are likely new to your business. This means information like their company name, job title, and contact information aren't in your system yet. Collecting this information early in the sales process will make it much easier for your sales team to connect with and nurture leads.
Which form fields can you include in a lead capture form?
Name
Job Title
Contact information (phone and email)
Company name and size
Company revenue
A rookie marketer might make the mistake of creating a form with dozens of form fields. Long lead capture forms aren't a lost cause – you just need to be smart about when and where you use them.
Prospects in the early stages of buying usually don't want to part with their personal information. A lead who is in the decision making stage of the sales process is much more likely to share personal information, in order to help aid the sales process.
Shorter lead capture forms generate more leads of lesser quality. These forms are best used for things like newsletter sign-ups and gated content. These people probably aren't looking to buy yet, but can be nurtured into viable prospects over time.
Longer lead capture forms generate fewer, higher quality leads. These forms are best used to convert leads that are closer to making a purchase near the bottom of the sales funnel. Because they are looking to buy, you'll want to get as much relevant information for your sales team as possible.
Always ask yourself if the value of the offer you're providing is worth what you're asking of a prospect. Two-thirds of prospects are willing to share personal information with companies if they believe it will lead to a more personalized marketing experience.
Create a quality value-add and keep your expectations of prospects reasonable. Anything extraneous or too invasive could scare the prospect off. Only ask for information that is essential for your sales team.
Here are a few other things you should keep in mind when creating your forms:
Position on the page: keep your form above the fold of your webpage for maximum visibility.
Length of the form: gauge the number of form fields per form based on where customers are in the buyer's journey.
CTA: be clear in your call-to-action what prospects will receive when they subscribe.
Privacy policies: marketers should disclose upfront how a prospects information will be used if they sign-up.
How to design a lead capture page
A lead capture page is a specially-designed landing page whose sole purpose is to capture information about your leads: name, email, phone number, and so on. This information is collected through a lead capture form and used to help you build a relationship with your leads. The end goal is to convert them into customers through your marketing funnel.
While lead capture pages aren't necessary for housing lead forms, they are an incredibly popular marketing tool. Sixty-eight percent of B2B companies use landing pages to nurture new sales leads for future conversion.
Here's an example of how a lead capture page and form can work together: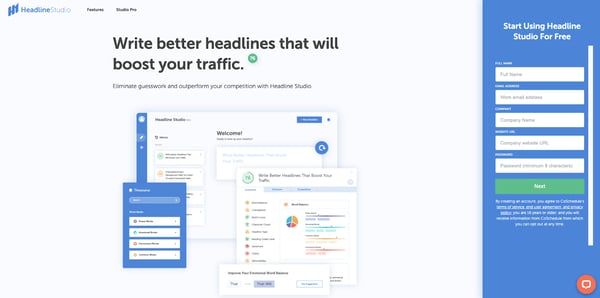 Using lead capture forms and lead capture pages, marketing teams can create attractive marketing communications. Many marketers pair these specially designed landing pages with exclusive content and offers for prospects. This is a tactic marketers use to make the prospect feel more comfortable with sharing their information.
Here are three easy ways to make your lead capture page stand out:
Provide social proof: incorporate customer testimonials, online reviews, awards, and badges on your lead capture page to showcase why your current customers love your product.
Invest in an autoresponder: leads are nine times more likely to convert when businesses follow up within five minutes. Autoresponders automate customer communications, so customers get the information they need instantly.
A/B test everything: like any other piece of marketing collateral, lead capture forms should be A/B tested to help you gauge success. This will help you pinpoint which forms are converting well and which need a second look.
Best lead capture software
Managing all of your inbound leads can get overwhelming, but lead capture software is an easy way to automate the sales prospecting process.
Lead capture software can be used by both marketing and sales teams to identify potential leads, score these potential leads, and use sales intelligence to turn prospects into paying customers. And with software automating most of the work in the background, your teams can focus more on selling and less on the tedium of database management.
For marketing teams, lead capture software offers a centralized hub for planning, implementing, and tracking customer communications. These bulk communications make it easier for your marketing team to deploy promotional campaigns to customers or leads. Sales teams can also utilize these communication tools to directly engage with prospects and customers.
In order to be included in this list, a product must:
Provide features for collecting and managing customer data, as well as the ability to create lists for communications
Ability to capture and track leads across multiple digital channels and devices, including email, website forms, social media, events, and more
Include options for creating and easily exporting lead data into reports, spreadsheets, and other reporting formatings
Easily integrate and communicate with other sales and marketing software solutions like CRM and marketing automation software
* Below are the top five leading lead capture software solutions from G2's Fall 2020 Grid® Report. Some reviews may be edited for clarity.
1. ZoomInfo
ZoomInfo is an all-in-one sales hub that provides teams with best-in-class solutions for lead generation. ZoomInfo offers a variety of features and integrations that easily integrate with your existing technology stack. Easily qualify and score leads with ZoomInfo and discover in real time how to reach potential customers quickly and efficiently.
What users like:
"The features and functionality are the highlight of this tool. The intent data has been key for us. Knowing which companies are actually interested in the services we provide has allowed us to better target our content as well as prioritize our outreach efforts.This also helps align our sales and marketing to ensure everyone is on the same page.
Being able to integrate with our CRM system is also very helpful. Our sales team no longer has to copy and paste client information into the CRM…it is right there at their fingertips!"
– ZoomInfo Review, Haley M.
What users dislike:
"The training and set-up is a little clunky, but the customer service and IT teams at ZoomInfo do a lot to help you through. So, even though the process can seem a bit slow, they work through it with you in real-time. My questions have been answered amazingly fast.
There are a lot of resources online as well that can help with issues. Overall, our seasoned sales staff is getting up and running well with this tool and that speaks to the ease of use for the product. Once we have gotten past some of the setup issues, they have been using the tool a lot to find those decision-makers."
– ZoomInfo Review, Matthew B.
2. Lusha
Lusha is a best in class lead capture tool that enables sales and marketing teams to make fast connections with leads and customers. Lusha helps sales teams build trust with leads by providing the right tools for connecting and cultivating relationships. Businesses of all sizes, from solopreneurs to enterprise companies, all trust Lusha for their lead capture needs.
What users like:
"We are growing with Lusha because of the powerful source of information the tool provides. We can collect emails, contact numbers and phone numbers in a number of growing industries, which makes connecting with customers easier. One of my favorite things about Lusha is that it updates my sales record automatically, which has saved me a lot of time that I used to spend on manual work."
– Lusha Review, Marije D.
What users dislike:
"I'm not a big fan of the Salesforce integration, as it often takes too long to be updated. The "list" feature could be better and more user-friendly. Lusha is also very tightly linked to LinkedIn. So if your contact doesn't have a LinkedIn profile, you probably won't be able to find the contact info anywhere. Because of how implemented it is in the EMEA region, I believe having the same efficiency on Xing would be great!"
– Lusha Review, Mehdi L.
3. CallRail
CallRail brings visibility and sustainable growth to all of your lead capture needs. CallRail brings together leads from a variety of platforms, including: phone calls, online forms, chatbots, and more. CallRail's intuitive design makes communicating with prospects simple, leaving your team more time to focus on forming the right connections with the right decision makers.
What users like:
"I really like the accuracy of call tracking and the ability to break down call conversions by source to see the effectiveness of our marketing campaigns. Being able to review calls and attribute them based on the services the potential client is looking for is insanely helpful for our marketing campaigns. We are able to see exactly what potential patients are looking for and bump our ad spend up in those areas to convert better.
Currently, we are able to boost conversions and conversion rate with our PPC campaigns, as well as work on adding additional services or improving existing services based on the results of the calls we receive."
– CallRail Review, Jarett W.
What users dislike:
"There isn't much I don't like. I wish the detail and notetaking features were a little more extensive and able to integrate with Google Analytics to provide details on true leads, revenue attribution, etc. Automatic transcription of calls would also be helpful. This would allow us to more quickly analyze the qualitative data. With chatbots becoming more and more prevalent and used on websites, phone calls are an invaluable source to guide the questions our chatbots should ask.
I also wish that there were more direct integrations with other marketing platforms. Attribution is going to become trickier and trickier over time as new channels and tools enter the marketplace. We need to be able to tie those phone calls back to as many marketing platforms as possible to adequately optimize our campaigns based on engagement and conversions."
– CallRail Review, Camielle B.
4. NetLine Corporation
NetLine Corporation is an all-in-one lead generation network dedicated to empowering B2B marketers. With both self-serve and full-service solutions included, it's easier than ever for teams to capture intent-based leads, analyze lead data, and create compelling marketing communications to reach your target audience.
What users like:
"First of all, Netline's customer service is excellent. April was extremely helpful during setup, calling me to walk me through what was needed to launch. She made the process painless, which is important when using a self-service tool for the first time.
Beyond service, Netline provides a tremendous amount of control over lead generation campaigns, far above what you could get from other DSPs or even LinkedIn Advertising. This, in addition to the lead knowledge you get, allows you to continually self-optimize your campaigns to only get the leads that meet your qualification criteria. This is an amazing platform for B2B marketers!"
– NetLine Corporation Review, Nathan H.
What users dislike:
"The only thing I'm not a huge fan of is editing capabilities. Once you publish/submit a campaign, in order to make edits, you often have to get a rep to pause it for you instead of being able to pause and start it yourself whenever you want.
Also, you have to have your campaigns last a month, which sometimes is not good for us for our social budget, as we have to prove they start and end in the same month, which is not always possible. It would be nice if it were 2-3 weeks. Usually, it only takes us a few days to see a turnaround, which is outstanding! It'd be nice to see this done."
– NetLine Corporation Review, Julia F.
5. Clearbit Enrich
Clearbit Enrich is the tool of choice for sales organizations looking to make better use of their data. This tool allows sales and marketing teams to score leads and automatically update sales records with speed and accuracy. Clearbit Enrich allows for deep data analysis, list creation, and segmentation, so you'll always know when to contact prospects at the right time.
What users like:
"The data accuracy is what I love the most on this product. The data search functions perform nicely and allow for quick, multiple searching of different previous company information. Clearbit is very good software for prospect list building.
Clearbit supports the integration with several of our other systems like Drift and Salesforce. The notification options and the accuracy of the various contacts numbers simplifies our operations and saves us a lot of time."
– Clearbit Enrich Review, Debbie J.
What users dislike:
It would be great to implement more free searches, on the other hand there is a weakness that not all information is updated, a failure that is presented as a database so extensive but in turn, influences in such a way that the waste of time It is a totally negative situation and there is no way to avoid it, however it could be said that it is a common problem in similar software.
– Clearbit Enrich, Matthew H.
Capture attention and sales with lead capture
Lead capture helps attract the right prospects to your website, gather valuable contact information, and ultimately improve the quality of leads being passed to your sales team. When marketing and sales teams work together, everybody wins.
Lead capture is just the beginning – there's so much more to learn! Check out our beginner's crash course in customer acquisition.