First impressions matter. 
Making a promise to deliver value strikes a chord with your prospects and moves them further along in the buyer's journey.
So how can you deliver value at the very beginning? You make a promise. A promise to deliver value that your ideal customer is looking for. This promise is called a value proposition. 
What is a value proposition?
A value proposition is a clear articulation of a promise to solve a problem, meet customer's needs, and provide a benefit. It is a digestible way for a customer to understand why they should choose you.
Your unique value proposition won't sell the products for you. Instead, the value proposition sells an action for the customer to take by enticing them with benefits, which then leads to customer acquisition.
In this article, you'll learn not only what a value proposition is, but also how to create one using a value canvas and be inspired by examples of a value proposition. Apart from that, you'll get to know about the elements that make up a value proposition and get clarity on what isn't. 
Crafting your value proposition clearly and coherently strikes a chord with your target persona.
Apple products, for instance, have always focused on highlighting digestible values to their customers. When the original iPod launched, Steve Jobs introduced it as "1,000 songs in your pocket" instead of a music player with 5GB of storage. The focus shifted from talking about the storage capacity of a music player to what it does for a user. More importantly, the campaign included what value it can provide to someone who wants to listen to music. It made the iPod stand out and be noticed. 
Exclusivity in experience and offering is key to making your value proposition stick and occupy the center stage in people's minds.
With your website being the first touchpoint in an age of dwindling attention span, your value proposition should speak up right from the get-go. Worldwide, only 2.42% of visits on are you e-commerce websites convert into purchases. With an abundance of options available, it's critical to grab your site visitors' attention if you plan to impact conversion rates. 
Naturally, you'll see value in your offering, but will your prospects see the same?
To craft a good value proposition, you need to answer the following:
What problem does your business solve for a customer?
How are you going to solve that problem?
Why should someone do business with you instead of your competition?
Answering these questions alone isn't the be-all, end-all in creating an effective value proposition, but it can nudge you in the right direction. 
What a value proposition isn't
We've discussed what a value proposition is; now let's discuss what it's not.
1. Incentives/promotional offers
Offers and incentives that can help you reach a wider audience and act as a selling point are great when used as marketing tactics. But they are not your product's value proposition. Think of it this way, "Are incentives the only reason why customers show interest in your product?" If yes, what happens when a competitor gives a better offer?
2. List of features
A value proposition isn't about listing features. Nor is it a side-by-side comparison with competitors that claims your solution to be the best (on your website of all places!).
Features, no doubt, help customers know the product better and move them up in the buyer's journey. But they are just that: features. Your value proposition goes beyond talking about your products' attributes.
3. Tagline/catchphrase
It's easy to think of value propositions as taglines or catchphrases that'll grab attention and make you look smart. Only they aren't. You need to distinguish between the two.
Sure, a catchy tagline can still convey value and connect with your target persona, but it cannot comprehensively explain what your product is going to do for customers. 
For instance, Netflix's value proposition is, "Unlimited movies, TV shows, and more. Watch anywhere. Cancel anytime.", which immediately highlights their business value. But when it comes to taglines, they change them as frequently as the new season of a show. The latest one goes by, "See What's Next" – smart, and yet it doesn't convey the message of what the streaming giant provides. But their value proposition on their homepage takes care of the messaging.
4. Positioning statement
A positioning statement gives you a competitive advantage by making you stand apart. This is a subset of any good value proposition but isn't a value proposition itself. A positioning statement answers why you are better than your competitors.
While it partly answers and helps your prospect, it doesn't provide insight on what value you're providing. Imagine Apple saying how good their iPhone's camera is when compared to Samsung, but not discussing what value their camera adds to your life. 
5. Vision/mission statement
It's good to be aspirational, and as a goal for your company, strive toward a vision to scale up, grow, and shoot for the moon. But that overarching goal is not of any value to a customer seeking a solution. 
A vision statement is written from the perspective of a company and not a customer. This itself makes it stand on the opposite side of what a value proposition is about. A vision statement gives insight into what a company thinks it does and where it wants to be. For a business, a vision statement helps them remain steadfast on its core focus and strategies. 
Why have a value proposition?
You've probably heard the phrase "if you build it, they will come" from small businesses that are trying their best to grow and focus their energy on serving customers.
But making your business stand up by itself is a Herculean task. The operational challenges, resource and inventory management, and technical know-how are too much. So to think your product will speak for itself is illogical. It makes sense to invest time in things that matter instead. 
While that may be the case if you have a monopoly, more often than not, it isn't. And even if it is, how long are you going to be the undisputed leader without a challenger to take your business on?
Let's break down why a value proposition is a must to grow your business.
1. Help potential customers understand your product/offering 
Your potential customers need to see value in your proposition. Unless they get it, they won't show interest or consider buying your product. 
Your value proposition should ring a bell for someone who's at the awareness stage as well as for someone who's comparing your solution to others. This is easier if you've created a persona that is consistent across the buying funnel. This way, you're able to appeal to a prospect who has never even heard of your product before and at the same time be appealing to someone who has invested a significant amount of time in doing research. 
2. Differentiation between competitors and me-too players
It doesn't take much time for competitors to become "inspired" by your features or products. Unless you have a patent for whatever you're selling, it'll be impossible to stop a me-too brand from copying your offering. That's why there needs to be some focus on branding and differentiating your product.
This goes back to the discussion of 'adding value' in your offering instead of those being limited to being a list of attributes that are easily replicable. People associate with brands because they see an extension of themselves in them. A good customer value proposition does this for you by building that association with your existing customers to build a loyal customer base. 
3. Increase the customer lifetime value
Retaining an existing customer costs far less than acquiring new customers, irrespective of whether you're a B2B or a B2C company. The primary reason to care for your existing customers isn't limited because of the cost of acquisition only. An existing customer is a recurring source of revenue and may be more likely to try new products or upgrade their current subscription with your brand. Another key benefit is how your existing customer can be a good source of data and valuable feedback as well.
Reiterating your value proposition helps your existing customer base see you, your product, and your service as an extension of their own personality. 
Now that you understand the reasons to have a value proposition, let's go over the process of creating one. 
What goes into creating a compelling value proposition
There are essentially two elements that are required to create a value proposition: buyer persona and positioning.
Buyer persona
A buyer persona is the starting point when it comes to creating a powerful value proposition. It helps empathize with your target's pain points and find solutions for them. Using your buyer personas can improve the usability of your website and lead generation, and also assist with developing a compelling value proposition. 
A buyer persona paints a picture of an ideal buyer for your business whom you can target. Creating a buyer persona isn't limited to building demographic filters alone. It includes skimming through customer data, diving into behavioral analytics, and market research.
When you have the buyer persona in place, the job of creating a value proposition becomes easier.
Positioning in the market 
Your product positioning is akin to reading the mind of your buyer and figuring out what clicks. This is crucial to create your value proposition as this helps fine-tune the benefits that your prospects will get on board with.
Is your buyer persona price conscious? Then your positioning needs to highlight the affordability of your product and pricing.
Value proposition = Buyer Persona + Positioning
Before we jump to create a value proposition, let's go over how to create a value proposition with a value proposition canvas.
What is a value proposition canvas?
A value proposition canvas is a tool that makes you empathize and design your proposition from a customer's perspective. It shows you the direction your product should move in to cater to your target customers' needs and wants.
Alex Osterwalder, Co-Founder of Strategyzer, created the canvas to break down the two most important aspects of the value proposition framework to make it as simple as possible to understand.
On one side of the canvas is the value map. It explains the way you will create customer value. The other side is the customer profile, which allows you to fully get to know your customers and better understand their needs, empathize with them, and provide value. 
To create a successful value proposition, you have to achieve a fit between the two sides by identifying important jobs, fostering gains, and alleviating customer pain points.
These two segments help you decide what your value proposition should have. A customer profile consists of customer jobs, pains, and gains. A value proposition map has products and services, pain relievers, and gain creators
Let's go back to the Netflix example to build a value proposition canvas for their service.The idea is to map the pains and gains with their corresponding pain relievers and gain creators.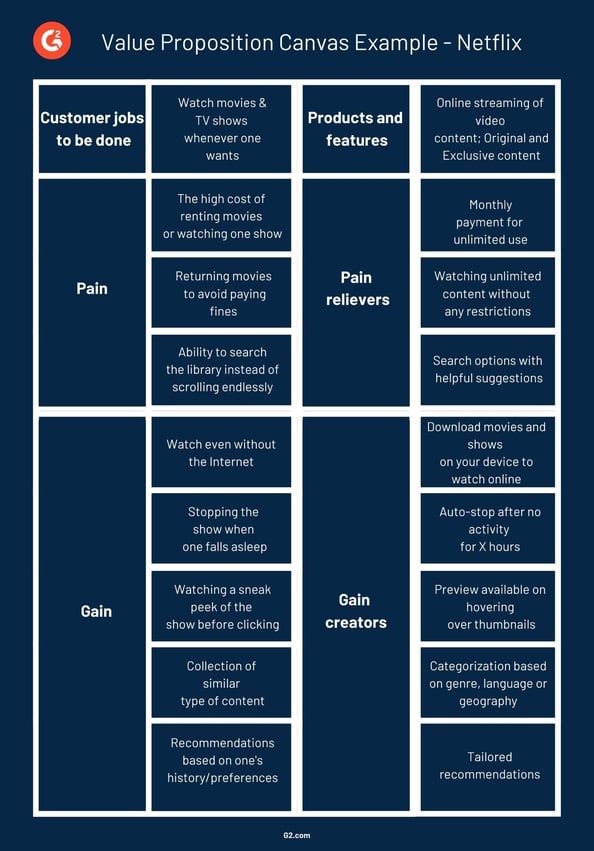 Using this template, you should be able to break down what you need to convey in your value proposition. 
How to write a unique value proposition
Now that you've gone through a detailed understanding of a value proposition canvas, writing a unique and compelling value proposition is the next step. Here are three steps to help with writing your value proposition:
1. Gather voice of customer copy
Use language that customers use for their pain points. Your customer value proposition is for your customers and for you to connect with them, so it's logical to use the language they speak. 
The language a customer uses to voice their pain points reflects what they need from you, the service provider. It also provides insight into what a customer hopes to gain from your business,  which is an invaluable piece of information for any company to have.
If you're wondering from where all you can gather data points, we have you covered. 
Where to gather data to understand customer data?
Testimonials
Referred clients/customers
Social media comments
Surveys
Competitors (data from all the above channels)
Online reviews
If all else fails, you can always reach out to your existing customers to ask them directly what they value about your business. 
2. Make it simple 
Emphasize clarity over creativity. Being clever in messaging comes easy for marketers when trying to sell. While it's good to let the creative juices flow, don't sacrifice clarity for creativity. For your marketing strategy to be effective, you need a strong value proposition that works for your target audience, not for your marketing peers.
Clarity is critical in conveying your message to prospects and customers alike. A clear value proposition spells out how much you understand your own business. Simplify what you're proposing to get your message across better.
3. Focus on key benefits and value adds for customers, not hype or jargon
Identify the benefits your product offers. It's not about the features that your product or service offers and yet you need to list them down first.  Attach a perceived value against each of these benefits. 
While explaining the benefits your product offers consumers, make sure to highlight the value it will bring them. List these benefits out to inform interested parties about what's in it for them as consumers.
Once done, focus on setting a value that each of those features brings to your customers' lives. Instead of saying, "this phone comes with X features," explain how X features bring value to the consumer's life.
If your target persona is non-technical, instead of saying, "this phone has a night mode," switch to, "You can take photos at night!". This is just a small change in how you present the value that is going to make a difference to a consumer.
Describe what makes these benefits valuable.
Identify your customers' problems.
Connect this value to the problem.
Differentiate yourself as the preferred provider of value-adding solutions. 
How to test your value proposition to make it more effective
Once you've created your value proposition, you'll need to test it. Here are some interesting ways you can test your value proposition.
1. Test with an unbiased audience
People who understand your vertical or business might have a bias one way or the other. Try to gather feedback from focus groups or individuals who are not currently involved or aware of what your business does. This feedback can be an eye-opener to know whether your value proposition sticks or not.
You can eventually compare notes of two groups: your existing customers, and prospects who don't know much if anything about your product. This will help you understand gaps, expectations and help fine-tune your messaging. 
2. A/B testing 
Use separate landing pages to test out your value prop, and once the A/B tests have gathered enough data, use that to optimize your final page copy. User behavior and engagements are a goldmine of information when deciding on the final copy of your value proposition. 
Ensure that you're testing apples to apples, however. For instance, when trying to test out a value proposition, only change that and nothing else on the page. This ensures that no other factors play into skewing your data points. 
3. Social media 
Testing out your value proposition on social media posts is another simple way to get feedback from your existing audience. If you're a startup or yet to build a customer segment that can give you feedback, test your messaging using paid social media ads to target your user persona. 
The reason to run an ad instead of posting organically is that the organic reach is pretty low. An organic post on Facebook reaches just 5.29% of the total users who've liked that page. 
If you have a sizable audience that regularly engages with your posts, feel free to post organically if you don't want to run an ad. The benefit of running an ad is that you can control your target audience, too.
4. Outreach 
Use the landing pages you created for the A/B testing and reach out to a select target customer group. Check on the brand recall of your value proposition by following up with them after a week. 
There are tools available to gather and manage feedback, and you can take a look at the best enterprise feedback software on the market to see which one works best for you. 
Conducting outreach helps you connect and gather data directly from your target personas as well. 
Value proposition examples:
If you're looking for some inspiration, here are seven examples of a great value proposition. Note: the value propositions are accurate at the time of writing.
1. G2  
"Where you go to buy software. You can choose the right software and services for your business based on 1,244,300+ authentic, timely reviews from real users."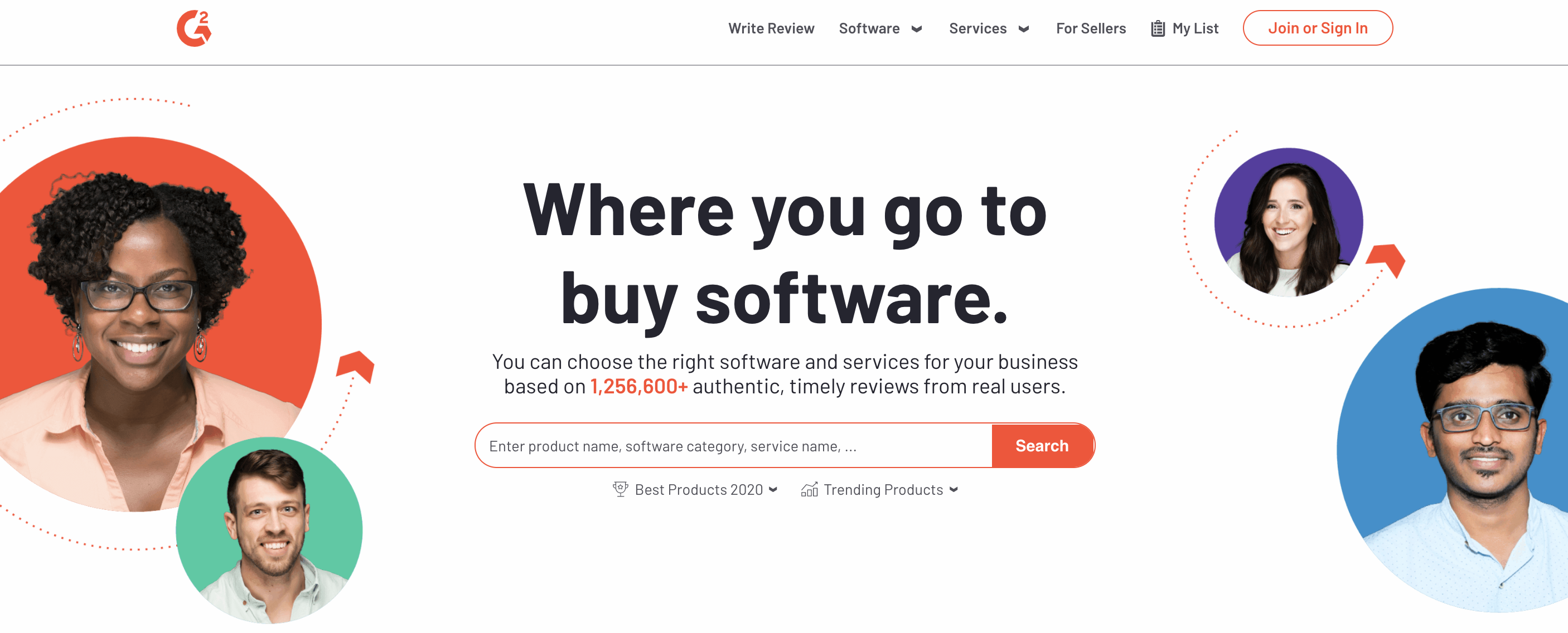 Sure, we're biased, but G2's value proposition ensures users that they're in the right place for software reviews, while highlighting how the reviews are unbiased and authentic.
For our user persona: someone researching software, G2 is the ideal place to be. G2's value proposition is rooted in the rationality of a user's research process and lays out what a user is going to get by visiting our site.
2.

Shopify
"Anyone, anywhere, can start a business"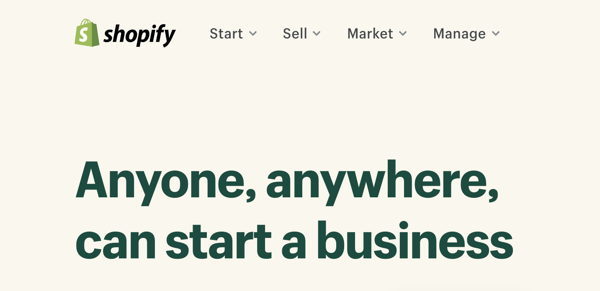 Source: Shopify
Shopify helps individuals and small businesses go online and sell. Shopify's value proposition is perfect for a small business owner who wants to start selling online. 
3.

HubSpot
"Marketing, sales, and service software that helps your business grow without compromise. Because 'good for the business' should also mean 'good for the customer.'"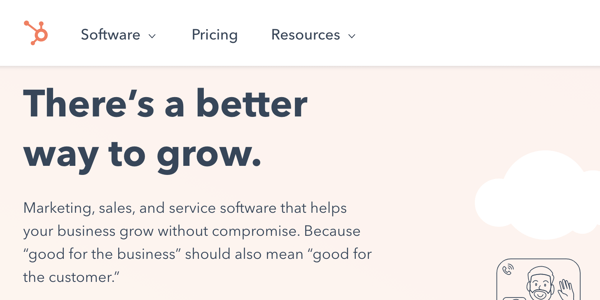 Source: HubSpot
HubSpot is a company that made itself synonymous with inbound marketing, but with an increased sense of focus on customers. Their value proposition reflects just that. 
4.

Grammarly
"Great writing, simplified. Compose bold, clear, mistake-free writing with Grammarly's AI-powered writing assistant."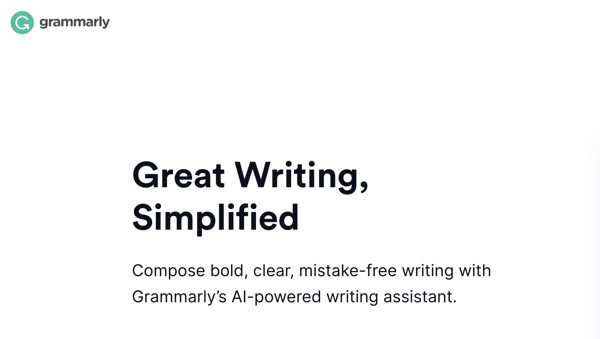 Source: Grammarly
Grammarly strives to help anyone who writes- write better. Their value proposition is to drive the point that by using Grammarly, you'll be able to create mistake-free writing. They also make sure to highlight how they're going to do that: their AI-powered writing assistant. 
5. Unbounce
"Create custom landing pages with Unbounce – no coding required. Get the highest-converting campaigns possible with Unbounce Conversion Intelligence™ and our latest AI feature, Smart Traffic."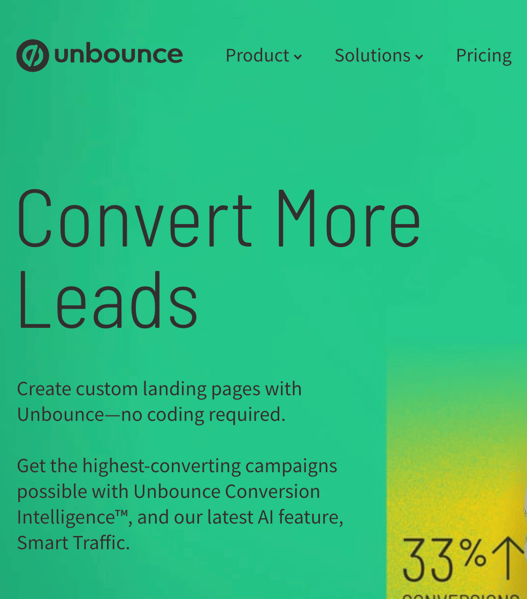 Source: Unbounce
Unbounce's value proposition calls out their user persona: non-coders who want to create custom landing pages. As you can see, they even try to differentiate themselves by how their campaign set up is powered by AI and can get you more conversions. 
So how much value is in a value proposition?
Value propositions help you perfect your promise, make you accountable to service your customers, and in the process, improve conversion rates. Value propositions are about finding a fit. 
Of course your customers are the ultimate judge on whether the proposition works to their expectations or not. But as long as you've considered your customers' perspective when creating a value proposition, you've done your part.
A value proposition is not only limited to your target customers, but also sets your employees and company up for better alignment. They are an essential ingredient for a recipe of success that should not vary based on taste or preference; rather, be followed uniformly by everyone. 
It's important to note that value propositions aren't always set in stone. With changing needs, demographics, technology, and competition, you should alter your value prop as needed. 
Interested in understanding your ideal customer? Learn how to create a customer profile and improve your conversion rate.