Modern consumers have high expectations. 
They value convenience and flexibility over the restrictions of traditional retail. They make conscious decisions and often conduct thorough product research. And above all, they like to be in control of their buying journey. 
To survive in today's competitive retail environment, businesses need to meet these consumer demands. Essentially, brands must make their products and services available through all of their customer sales channels. The best way to achieve this is by implementing a multichannel retailing strategy. 
What is multichannel retail?
Multichannel retail is a business strategy that utilizes different distribution channels to sell merchandise. It helps businesses connect with consumers online and in-person through channels such as brick-and-mortar stores, e-commerce, online marketplaces, and social media.
Managing products across multiple sales channels sounds like a strategy best fit for large retailers with endless resources. Luckily, multichannel retail software makes it easy for businesses of all sizes to manage and sell products across various distribution channels. 
Multichannel retailing is beneficial for businesses and consumers alike. It opens doors for brands to expand their audience and for customers to choose their ideal shopping experience.
What does multichannel mean in retail?
Multichannel retailing is the practice of selling products and services on more than one sales channel. In a multichannel retail model, brands sell their products directly to the consumers as well as through other vendors both in-person and online. 
The objective of multichannel retailing is to provide customers with more ways to research and purchase your products. This helps build customer loyalty with convenient and flexible ways to shop. 
82%
of consumers have researched products online before making a purchase in-store.
Source: Business Insider
Types of multichannel retailing
As technology evolves, so does the world of multichannel retail. Although the internet has certainly helped advance the practice, multichannel retailing is not a new strategy. 
Sears, Roebuck and Co. was an early pioneer of multichannel retailing with its mail-order catalog in the early 20th century that lead to the first Sears department store in 1925. The Sears catalog catered to consumers in rural communities while the brick-and-mortar stores allowed the company to connect with urban and suburban audiences.  
Sears' multichannel retail approach also changed consumer expectations. Shoppers now had the opportunity to browse products in a catalog but make their purchases in-store – or vice versa. 
There are many innovative ways to sell products across sales channels, but the following are some of the most common types of multichannel retailing.
Brick-and-mortar
Traditional retail has always taken place in a physical or brick-and-mortar store location operated by the business. The brick-and-mortar model gives businesses the opportunity to offer products or services in person and connect with customers face-to-face. 
Pop-up shops have also gained popularity amongst digitally-native retailers who want to connect with customers in person but are not quite ready for a permanent storefront. These temporary locations are a low-risk way for businesses to trial a brick-and-mortar location.
Historically, brick-and-mortar stores would serve as the main distribution channel for organizations. Nowadays, it's rare to find companies that exclusively operate brick-and-mortar without the assistance of online channels.
Direct-to-consumer e-commerce 
The dot-com bubble of the late 1990s popularized the hybrid retail approach referred to as clicks-and-mortar, where businesses sell directly to consumers both in-store and online. 
A direct-to-consumer (DTC) model allows businesses to sell products straight to consumers without utilizing third-party retailers or wholesalers. DTC can be achieved online through your company's website or mobile app. 
Social media channels
When social media emerged in the early aughts, organizations flocked to those platforms to connect with consumers and promote their products. By the mid-twenty-tens, paid advertising on social media became standard practice for most e-commerce businesses. 
Some social channels even allow in-app purchases so consumers can easily buy without leaving the platform. For example, Instagram users can purchase products from retailers without leaving the Instagram app.
37%
of online shoppers use social media to research brands or products. 
Source: GWI      
Telephone orders 
A telephone order occurs when a customer calls and places a product order over the phone.
Telephone orders were prevalent throughout the 1980s when paid programming dominated late-night television. Infomercials and other on-air ads generally encourage viewers to call a toll-free number to order a product. 
While telephone ordering seems outdated, it's still an important part of modern multichannel retail. If a customer experiences issues online, they can simply call or text to place their order instead. Customers can also contact brick-and-mortar stores by phone to hold items for pickup at a later time. 
Note: Though they sound similar, telephone and mobile ordering are not the same. A telephone order occurs when a customer calls to speak to a representative. A mobile order takes place on a customer's smartphone, either on a business's mobile site or app. 
Catalogs
Pre-internet, mail-order catalogs gave businesses the power to reach people in both rural and urban areas. Consumers could flip through a catalog and simply mail back their payment and product selection. 
While the internet has made mail-order catalogs less common, that doesn't mean direct mail is dead. Many brands continue to send physical catalogs to their customers to announce new products or features. 
Online marketplaces
Online marketplaces such as Amazon, eBay, Etsy, Rakuten, and even Walmart primarily sell products from third-party vendors to give consumers a centralized buying experience. 
Online marketplaces have proven to be favorable among modern consumers due to the wide selection of products and services available. 
89%
of consumers say they are more likely to buy products from Amazon than other e-commerce sites.
Source: Oberlo
Multichannel vs. omnichannel retailing
Those familiar with multichannel retailing likely hear the phrase used interchangeably with a marketing strategy called omnichannel retailing. 
Although both practices focus on utilizing various sales channels to sell to consumers, there are key differences between multichannel and omnichannel retail. 
Omnichannel retail
Omnichannel retail marketing aims to create a seamless shopping experience for customers across every sales channel. The approach requires the cross-training of staff to ensure the customer experience is integrated from digital interactions to in-store correspondences. 
Target recently implemented an omnichannel marketing campaign that integrated Pinterest features into their app. Shoppers simply use their phones to take photos of any item, and the Target app will display similar products available for purchase. 
Omnichannel retailing uses different channels to revolve around the customer for a seamless experience. 
Multichannel retail 
Multichannel retailing, on the other hand, uses multiple distribution channels to revolve around your product. 
Businesses understand that customers don't interact with brands on just one channel and use multichannel marketing strategies to create more buying options. 
Imagine you encounter a social media ad for a winter parka. You first scroll through the post's comments to see what other customers are saying about it, then click on the ad so you can read the full product description on the company website. Finally, you do a quick search to see if the parka is sold through other retailers to compare pricing and available color options. This is multichannel retailing at work.
Advantages of a multichannel retailing strategy
Multichannel retail opens new avenues to connect with consumers and grow your business. Providing more places to buy means you can connect with more prospective customers.
And it doesn't just attract new customers. In fact, multichannel retailing can help strengthen customer loyalty by providing people with more than one way to shop their favorite products.
Customer flexibility
Modern consumers are generally tech-savvy and value shopping experiences that are quick and convenient. Consumers want more options and flexibility with their purchases. 
Multichannel retail provides your customers with more ways to shop and purchase your products. You simply can't put a price tag on convenience.
Wider audience
This point is simple: the more channels you use to promote your brand, the more people you will reach. Multichannel retailing helps increase your brand awareness among more diverse audiences and varying demographics.
Customer data
Third-party retailers and online marketplaces help you reach more customers and better understand their buying habits and purchase decisions. These sales channels often provide sellers with detailed reports and data feeds for businesses to assess customer behavior off their website. 
Customers may, for instance, use your site to research a specific product but ultimately make the purchase through a different channel. Collecting customer data from other channels will show you where customers prefer to shop and which products perform best on each platform.
Social proof
Social proof is invaluable for modern businesses. Multichannel retailing allows consumers to learn about others' buying experiences by exploring online reviews and social media chatter.
Based on the idea of social influence, social proof states that people are likely to copy the actions of others. This means consumers are more likely to purchase products with raving reviews and testimonials. 
If you've ever made a purchase based on a review or testimonial, then you have been influenced by social proof.
Challenges when implementing multichannel retailing
Despite the many advantages, there are several drawbacks to implementing a multichannel retail strategy.
Pricing
Product pricing can often vary among sales channels. This could lead to customers flocking to one channel to purchase products at a lower price, ultimately resulting in a smaller net profit margin. 
The cost of shipping, for example, might be higher when products are purchased on your DTC e-commerce site versus a major online marketplace like Amazon. You may also encounter price discrepancies due to discounts and promotions applied through retailers like Rakuten. 
Logistics 
Multichannel retailing can lead to exponential business growth. But this success will be short-lived if your business is unable to handle the logistics involved. 
Businesses must invest in the tools needed to streamline fulfillment, organize, and ship products. Any product available for purchase must be inventoried at brick-and-mortar locations, warehouses, or third-party retailers.
Attribution and data 
It's important to actively monitor and analyze data from every sales channel. This will help you attribute sales and ensure popular products stay in stock for other retailers and online marketplaces. It'll also uncover unpopular items so you can remove or reduce inventory numbers. 
Keep in mind that data analysis can be time-consuming. When you experiment with different distribution channels, you must also commit to regularly adapting and adjusting your strategy based on your data.
Multichannel retailing in practice
To succeed across channels, you need to know your customer and the platforms you'll likely find them. 
One of the best examples of effective multichannel retailing is the fashion house Burberry. The brand offers buyers flexibility with purchases and maintains a cohesive brand experience both on and offline.
Burberry's multichannel retail strategy
There are more than 450 brick-and-mortar Burberry stores worldwide, often located in affluent shopping districts. In addition to in-store experiences, Burberry also sells direct-to-consumer via their e-commerce website and mobile app.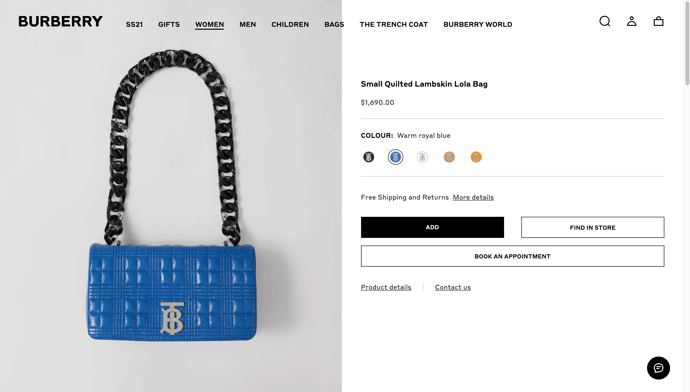 Source: Burberry
You'll notice the Burberry site even supports a multichannel experience with calls-to-action to buy online or shop in-store, putting customers in full control of their shopping experience.
Burberry also utilizes the shopping features on Instagram and Facebook. This allows buyers to purchase products directly through the social media app without leaving that channel. 
Source: @burberry on Instagram
Select Burberry products can also be found in-store and online through high-end retailers such as Saks Fifth Avenue, Neiman Marcus, and Bloomingdale's. Consumers can even buy select Burberry products on online marketplaces like Amazon and NET-A-PORTER.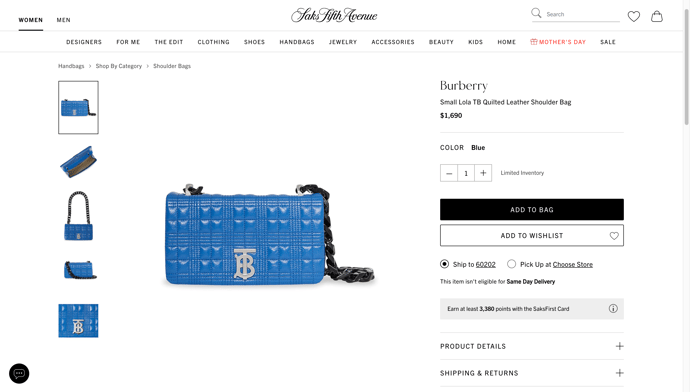 Source: Saks Fifth Avenue
Burberry's multichannel retail strategy is clear: strengthen brand loyalty by providing convenient ways to purchase products across different sales channels. 
There is no one-size-fits-all approach to multichannel retail. However, there are certain multichannel retail trends Burberry has put to practice that prove the benefits of selling on different channels. 
5 multichannel trends
Cater to your customers online and offline
Create seamless cross-device and cross-channel experiences
Use customer data to make the buyer's journey more personal
Provide different fulfillment options for ease and convenience
Experiment with new channels to widen your audience 
Multichannel retail software solutions
The first step in implementing multichannel retailing is to unify business operations with product data. Like Burberry, your business should aim to connect offline and online shopping experiences. 
Multichannel software helps you get a handle on where your business is succeeding, where you're falling short, and how you can expand to other channels. Businesses use multichannel software to sync all product data for their e-commerce business into one centralized place. 
To be included in the multichannel retail software category, a product must: 
Provide consistent product info, pricing, and purchase experience in all sales channels 
Ensure communication is consistent across sales channels 
Store product and customer data into one place 
Automate online order processing 
Create reports for metrics such as inventory status and customer behavior 
Process payments in every channel 
*Below are the five leading multichannel retail software providers from G2's Spring 2021 Grid® Report. Some reviews may have been edited for clarity.
1. Webgility 
Webgility is a helpful tool for online businesses looking to automate operations across channels. This software integrates more than 70 different platforms and systems to help you run your retail business in one place. With Webgility, you can automate your accounting and financials, eliminate manual data entry, run sophisticated insight reports, and save precious time and money in the process.
What users like:
"Webgility has automated our previously manual process of creating and posting invoices in Quickbooks. It is connected to all of our multiple selling platforms and posts automatically for us. It also updates those platforms and lets them know when an order is shipped."
– Webgility Review, Corey V.
What users dislike:
"Sometimes the system misses transferring an order here and thee. Customer service was unable to explain why it happened, so we have to pay closer attention to our transfers to ensure none are missed."
– Webgility Review, Melissa S.
2. Sellbrite 
List and sell products across different online channels with Sellbrite. The cloud-based platform integrates with most major online marketplaces and e-commerce platforms, including Amazon, Walmart, Etsy, and Shopify. Sellbrite makes listing easier, mitigates overselling, and optimizes your fulfillment process.
What users like:
"Once you figure Sellbrite out, which isn't difficult, listing to multiple selling channels is much less time-consuming. Sellbrite integrates with every shopping cart and selling channel that I've ever thought to use, so it should be an option for most small to medium-sized businesses."
– Sellbrite Review, Paul Francis J.
What users dislike:
"Sellbrite has a great array of subscription levels to suit many businesses, but they do need to continue working of some flexibility so that more business models can effectively use their product to match their business needs, without having to compromise their business needs just to match what Sellbrite can do. However, Sellbrite is aware of this, and I understand they are continuing work or meeting the needs of their diverse customer base by working further on their subscription models." 
– Sellbrite Review, Al W.
3. Skubana 
Businesses turn to Skubana to automate operations, from order management and inventory to analytics and accounting. Skubana's intuitive cloud-based software includes every post-checkout feature you need to simplify your business across sales channels.
What users like:
"Skubana makes it very easy to manage multichannel orders and fulfillment. It's an essential tool for our e-commerce business with several different sales channels and fulfillment partners. Skubana allows us to have everything tied together under one platform, giving us a lot of flexibility in directing volume to specific warehouses. The order bot tools are also very important as it automates a lot of the order management process, saving time and money."
– Skubana Review, Jose G.
What users dislike:
"The inventory reporting and export features could be a little more robust. Being able to export inventory based on a sales channel's listing SKU would be a huge help in our operations. Importing PO's into the system would also be a huge help."
– Skubana Review, Alex B.
4. CrazyLister 
CrazyLister gives businesses the power to manage product listings across channels. In addition to bulk listing management and importing product data, businesses can also find and replace information in multiple listings with a single click. CrazyLister is a helpful tool for companies using eBay.
What users like:
"The CrazyLister crew constantly updates the software application, including brand-new functions. The pros are that you can update all your eBay listings to the same CrazyLister theme at once rather than having to go through and try to figure out the HTML to make the listings look nice."
– CrazyLister Review, User in Industrial Automation
What users dislike:
"I just started using the service and haven't come across a thing major I dislike. The only thing I would recommend is when there's a photo upload error, include the error's reason and tell us what the exact problem is, so we don't have to try and figure it out."
– CrazyLister Review, Fredo H.
5. SellerCloud
SellerCloud is used by online retailers to manage products across multiple distribution channels. The software has more than 100 integrations with marketplaces, vendors, shopping carts, and others. SellerCloud is a flexible option for businesses that wish to synchronize and automate their multichannel retail strategy.
What users like:
"It has a fairly simple and easy-to-use interface that allows me to do everything in a quick and uncomplicated way. It also has metrics and statistics that are of great help to me when I want to make decisions that can impact the flow of income from my business. The fact that it has an inventory system is quite useful for me so as not to neglect the stock of my products, and their customer service team is quite fast when answering any questions or problems that may arise during use of this application."
– SellerCloud Review, Michelle M.
What users dislike:
"The support is not the best for a tool like this. Many times, it can take a few hours to respond, and that really is not something I like very much. For new users, it will be quite difficult to understand some of the features of this application since it is very robust and can have too many functions, which can make your work a bit more difficult."
– SellerCloud Review, James A. R.
Going through the proper channels
Today's consumers are spoiled with choice. 
Businesses must experiment with different sales channels, both on and offline, to keep up with the buying habits of modern consumers. Finding the right multichannel retail strategy will set your business up for ongoing success. 
After you implement multichannel retailing for your business, develop a cohesive brand experience to create meaningful, lasting customer relationships.